Doing business with online customers is a big challenge. As they find another service similar to yours in a matter of minutes, you cannot rely on them to wait around on your site for a long time. You need to quickly address them and help them through their problem or your customer will walk away never to return again.
Live Chat Software is a great way to get in touch with your customers and guide them through the buying cycle. Here is a list of the top ten live chat software applications that can change the way you deal with your clients.
Kayako
In terms of customer support Kayako is one of the most feature rich live chat solutions present on the web. They offer both a hosted solution as well as an on-premise one.
Installation:
Installation is extremely simple. All you have to do is copy the snippet of code that they give to you on your website and that live chat solutions will become active on the site for you to use.
Ease of use:
In comparison with other live chat solutions, Kayako is slightly complex. It might not be the best solutions for users who plan to use a live chat solution on their website for the first time.
Its feature richness is also a drawback as it takes users some time to get used to.
Features:
Kayako is not just a live chat solution. It is a live chat as well as a voice call, click-to-call, and VoIP solution. As such it might not be the best option for small businesses who simply want a simple live chat application on their website.
That being said, for enterprise level businesses this option is everything they could ask from a customer care solution.
Prices:
Kayako offers both on-premise as well as hosted solution. They have three plans in total of which the Case plan does not offer live chat services. Engage plan focuses on live chat solutions and Fusion plan is a merger of both Engage and Case.
| | | |
| --- | --- | --- |
| Price plan | Download | |
| Engage | $1500/year for 5 operators | $24 per operator per month |
| Fusion | $2000/year for 5 operators | $49 per operator per month |
Companies using Kayako:
Some of their well known clients are Samsung, Princeton University, Intel and many more.
To know more about Kayako live chat service visit http://www.kayako.com/.
LiveZilla
It may not be the best solution available when it comes to live-chat, but it is a great option for users who aren't comfortable divulging their private details to other servers. Its initial cost may be pricey but in the end LiveZilla can be well worth your money.
Installation:
As it is an on-premise solution, installing is a slightly tricky business. However, their video tutorials make the process pretty straightforward. You can get guidance for their installation process at https://www.livezilla.net/installation/en/.
Ease of Use:
As it is not a feature rich solution, it is pretty easy to use and manage. In terms of ease of use it is a pretty intuitive solution.
Features:
Some of the best features of LiveZilla are:
It can be used for multiple websites
It is a onetime payment solution
Easily share files through the chat unit itself
You can even have live web cam chats with your customers
Operator interface of LiveZilla looks like this:
Pricing:
There are two versions of LiveZilla, One and Pro.
LiveZilla One is an excellent option for small businesses that can manage their customer queries with a single operator account. They can utilize most LiveZilla features except features like geo-tracking.
The paid plans increase depending on the number of operators you require for your website. You can easily upgrade to a version that supports more operators by simply paying the difference of the price between the two versions.
| | |
| --- | --- |
| Pricing Plans | |
| One | Free of cost |
| PRO(2 operators) | 139.90€ |
| PRO(3 operators) | 169.90€ |
| PRO(5 operators) | 249.90€ |
| PRO(10 operators) | 489.90€ |
| PRO(unlimited operators) | 899.90€ |
LivePerson

LivePerson is an enterprise level chat support solution that provides high-level functioning for websites that need to track every online activity of their customers and need high-level support software to streamline the whole process.
Ease of use:
LivePerson is clearly not a solution for a simple website or a small E-commerce store. Its expenses as well as top-of-the-line features make it software that is perfect for companies that have complex services and need to give users step-by-step assistance.
Features:
LivePerson is more of a customer tracking solution and less of live chat support solution. It has excellent features for customer trackers and referral URLs so that operators can interact with customers and guide them in a better way.
Real-time customer tracking
Real-time updates about the progress with customer interactions
Geo-tracking of customers
Site referrals and search referrals
Spell checking features
Automated responses
Excellent third party integrations
McAfee SSL security
Pricing:
When it comes to pricing, LivePerson is not a crowd pleaser. Their pricing terms are complex and hidden additions are deceptive and most customers end up paying more than they had initially planned to.
You can check out their packages at http://engage.liveperson.com/alpha/
Customer Support:
As a software with a steep learning curve, efficient technical assistance is extremely important. But, LivePerson is not much helpful in this department.
Companies using LivePerson
Intuit, Gilt, and Snapfish are some of their proliferate clients.
Olark
Olark is one of the most lightweight, handy and easy to use live chat solutions. It is the perfect answer for small to medium businesses that do not require complex chatting software for increasing their conversion rate.
Olark is also a very popular live chat tool because of its easily customizable options and minimum functionality.
Ease of use:
Unlike enterprise level chatting solutions that require getting used to, Olark is child's play. Simply, integrate this solution in your website and its intuitive construction will pan all the steps of installation and operation to you.
Features:
Customizable chat-box templates making it easy to blend the chat-box with the theme of the site
Customer feedback options
Integration with Salesforce, Sugar CRM, Zendesk and Salesforce Desk
Easily track customer actions on your site while assisting them through Olark Live Chat
Powerful reports to understand the performance of your interaction with customers
Transfer chats and get chat transcripts
Proactive invites
Developer API
Mobile Support
Pricing:
You can check out their pricing plans at https://www.olark.com/pricing.
Here is a little table that will help you understand the different payment plans as well as discounts that they offer.
| | | | | |
| --- | --- | --- | --- | --- |
| Plan name | Number of operators | Monthly pricing | Annual Billing (save 10%) | 2 Year Billing (save 30%) |
| Bronze | 1 | $17 | $15/month | $12/month |
| Gold | 4 | $49 | $44 /month | $34/month |
| Platinum | 8 | $129 | $116/month | $90/month |
| Ultimate | 15 | $249 | $219/month | $170/month |
They even have a free option for websites that have a low chat volume. You can use Olark for free for up to 20 chats per month.
Zopim
Just like Olark, Zopim is a lightweight live chat solution that can create efficient and intuitive live chat solutions for your customers. It is one of the most affordable solutions out there that is a definite bang for your buck.
Installation:
All you need to do is copy the snippet of code that they provide and paste it in the source code of your website and you are set to go.
Ease of use:
As easy as installation is, operating this tool is even simpler. Its intuitive design is meant to instantly guide you so that you need a tutorial in order to navigate and operate on Zopim.
The dashboard is carefully organized so that it is easy for the operators and administrators to figure out which chats they need to address first and so on.
Features:
Easy customization
Create automated triggers for chats with customers
Save automatic responses for doubts
Create different departments to send customers to the right support operators.
Monitor the visitors activity while they chat with you
Integrate Zopim with third party tools like Salesforce etc.
Hide chat-box when not available and leave messages that can help you to get in touch with customers like asking them for their email ID.
Multilingual interface via Google Translator
Considering the features as well as the layout of the dashboard and its functions, there are very few live chat solutions that can boast about their simplicity the way Zopim does.
Pricing:
Zopim is a very reasonably priced live chat tool.  Its functionality is limited yet covers everything you would require from a live chat tool. You can check out their different pricing plans at https://www.zopim.com/pricing.
Their Starting package prices are $11.20/month/agent if the package is billed annually and the advanced one is priced at $20/month/agent if billed annually.
Customer Support:
Here's something interesting, the Zopim chat software has an internal chat option that will instantly connect you with a Zopim specialist who can easily guide you through any roadblock that you encounter while using Zopim.
Companies using Zopim:
Creative, Phillips, Hyundai, Avasti and many more.
Velaro
Velaro is a heavyweight live chat solution that is ideal for users who want complete control over their interactions with their customers. As far as third-party integration goes, Velaro is an extremely flexible live chat tool.
Ease of Use:
Because of its feature rich nature, Velaro is clearly not the easiest software in the bunch. It will take time for users to get used to its interface but once they know how to use it, Velaro can be a very powerful tool in their hands.
Feature:
Velaro is probably the only solution present that has been designed keeping in mind the needs of E-commerce websites. All its features give you access to the activities of customers on your site and products that they want to purchase or are currently interested in. This piece of software offers:
Excellent third party integration
Real time user tracking
Monthly performance reports
Click to call feature in the Enterprise package
Customization as well as branding liberty
Automated messages
SSL Security
Role based Security
IP address blocking
Multiple site and language support
Advanced offline visitor reporting
You can check out all their features at http://www.velaro.com/wp-content/uploads/2013/11/velaro-plan-features5b.pdf.
Pricing:
Velaro is definitely not the solution for small to medium businesses. You can compare their pricing plans at http://www.velaro.com/plans-live-chat/plan-comparison/.
Customer Support:
When it comes to helping their customers, Velaro's technical support team is very punctual, active as well as helpful. You just need to voice your queries and they will clear your doubts.
Companies using Velaro:
Dell, Comcast, University of Pennsylvania and many more.
ClickDesk
ClickDesk is an extremely simple to use and manage live chat solution. Considering the fact, that the software does not come with analytical features, it is not an ideal solution for Ecommerce websites that need to track customer activities.
Installation:
There is no need for downloading or other complex installation steps. Simply copy and paste the code in the source code of your website and  ClickDesk will start working on your site.
Ease of Use:
Its lack of complex features makes it an extremely easy to use and manage live chat software.
Features:
SSL security
Voice chat integration
Easy widget customization
Gtalk IM and Skype integration
Unlimited chats except for the fremium package that has a limit of 30 chats per month
Easy chat transfer and history reports
Social toolbar
Easy offline support via a robust ticketing system and prompt email notifications
Pricing:
As compared to the prices of Zopim, ClickDesk is a comparatively pricier option. You can check out their pricing packages at https://www.clickdesk.com/pricing.
LiveChat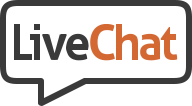 If you want to manage interactions with customers via a simple live chat system, then you cannot go wrong with LiveChat. It may not support the fancy features like Click-to-call and other forms of customer interaction, but when it comes to helping customers via the live chat tool LiveChat covers everything.
Ease of Use:
Its intuitive functioning makes it an extremely easy to use without any need of guidance.
Features:
Considering its price, LiveChat is a feature rich option that will take care of all your live chat, customer tracking and performance tracking needs.
Integrations with Google Analytics
Integrations with CRMs
Extremely customizable designs of chat-box
Customizable messages and buttons
Can be used and operated via a mobile
Share files with customers
Easily organize archives
Use canned responses
Easily transferable chats
Ticketing system
Customer Support:
When it comes to LiveChat, relying on their customer service is not advisable. A certain level of technical expertise would take you a long way in getting through to them.
To view all the features of this tool, visit http://www.livechatinc.com/feature-list/.
Pricing:
Here is a snapshot of their current packages and what they include.
They even offer a thirty day trial period for you to test the tool and see if it covers all your customer interaction needs.
SnapEngage
SnapEngage is a pretty formidable foe in the live chat tool competition. You don't need to download any software to use this awesome feature. Simply integrate it with Gtalk, Gmail or Skype account and you are set to go.
Installation:
Just grab the code they have on their site, paste it on your source code and SnapEngage is yours to use as you please.
Ease of Use:
As most of us are familiar with Gtalk, Skype and Gmail, using SnapEngage is a breeze. You feel like you are talking with any contact except what you are actually doing is engaging in a healthy conversation with your customers.
Features:
Easy third party integrations
Pro active chats
Ask for customized chat-boxes
Create simple offline forms
Real time customer monitoring but only with customers who are engaged in an active chat with you
Google Analytics integration
Click-to-call requests
Facebook fan page chat
Set up hours of operation
To get a full list of their features visit https://snapengage.com/live-chat-features/.
Pricing:
They have priced team plans as well as enterprise plans. For enterprise level plans, you need to contact them personally and negotiate according to your needs. Their pricing may be affordable for medium businesses that already have a team set up and just need a software to begin their interactions.
You can check out their team plans below: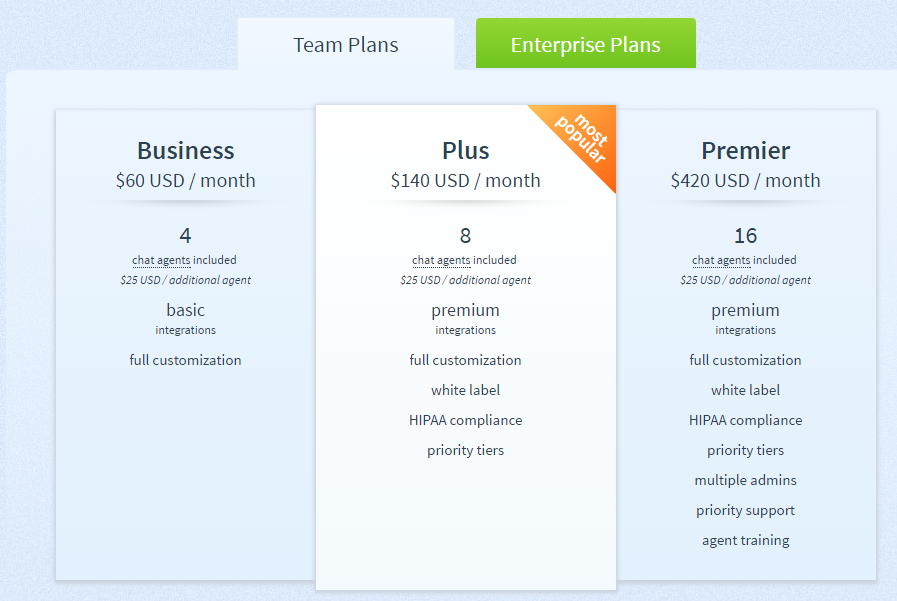 Companies using SnapEngage:
PBS, Meetup, CBS Interactive and thousands of other customers.
LiveHelpNow
LiveHelpNow has been in the live chat business for years and their front end shows this more than anything. When it comes to features, they pretty much provide it all, but their frontend view is the biggest thorn in their service.
If high functionality is all that you require for your live chat needs, then LiveHelpNow might just be the solution that you are looking for.
Ease of use:
Their functionality is pretty straightforward so using this solution would not require any rocket science knowledge on the user's part.
Features:
Considering its affordable prices, LiveHelpNow is a very feature rich solution and it covers everything from your basic live chat needs to even call management options. It offers:
Real-time customer monitoring
Access to API
Private massage options to train new employees
Easily transferable chats
Email ticket management for those who need it
Features to create a knowledge base for your customers
Multisite management through a single system
Instant translations
Unlimited canned responses
features to customize the backend according to the operations of your business
In depth analytics
LiveHelpNow is clearly the most feature rich solution out there in terms of live chat tools. If you can look beyond the appearance, LiveHelpNow gives excellent opportunities to design a customer interaction system that will drive your sales.
Pricing:
The best thing about the pricing packages of LiveHelpNow is that you pay for what you want. From a simple live chat tool to extended features that include a ticket system or even a click-to-call option, LiveHelpNow will give exactly what you want.
You can check out their pricing plans at http://www.livehelpnow.net/pricing.
After going through this list of the top ten Live Chat services, you must have figured out which service fits your needs. Just remember, as far as live chat software go, it is 20 percent what the software is and 80% how you use it to increase sales.