Mass tweeting is too generic, and Facebook Campaigns are not fit for professional marketing. As such, Email marketing provides one of the biggest opportunities for website and business owners to ensure customer satisfaction and manage promotional campaigns. With the advent of smartphone culture, the bulk of the internet surfing population is always hooked on to their emails. This is one of the biggest reasons that Email marketing has become a fruitful venture for marketers everywhere. Discount offers, subscription letters, latest products' info have become the prime means to target and grab the attention of mass audience and increase conversions. Picking out email marketing software is more complicated than you might think. You have to consider the price, your marketing strategy, the kind of audience you want to target and then find software that will fit those needs. Don't worry, when you are done reading this article you will be armed with all the information you need in order to pick the perfect solution.
Constant Contacts
The Good
If you are on the lookout for an affordable as well as reliable solution for your email marketing needs, then you have knocked on the right doorstep. Constant Contacts has slowly gained widespread popularity.  Here are some perks that have made Constant Contacts well loved software.
Over 400 templates to choose from
Excellent contact management tool for easily assembling  of customer data from different databases
All their plans come devoid of any sending limits
Extremely affordable pricing plans
Integrated social media tools
Easy to understand product tutorials, learner guides, live as well as on demand webinars
Advanced editing features that allow you to customize your emails
Highly efficient auditing system
Constant Contacts is the ideal solution for small businesses. With so many features at such competitive prices, it will be hard to find more affordable options. However, the reason that Constant Contacts is an affordable option is because it lacks some very important features that might cause affect your conversion strategies.
The Bad
Here is a list of some minor features that you will require once your business starts growing.
No A/B split test to test out different templates
Lack of RSS to Email function
Additional charges for survey testing
No integration with Google Analytics
Conducting surveys is one of the biggest helpers for optimizing websites. However, with Constant Contacts you will have to succumb to additional monthly charges if you are interested in conducting surveys through your emails.
The Ugly
While the features above are somewhat tolerable, the lack of mobile friendly email templates is a huge drawback that Constant Contacts needs to rectify as soon as possible. Currently, they only offer iOS friendly applications. As almost ninety-five percent of the smartphone using population views emails via their phones, by using Constant Contacts you can be deprived of a huge market.
MailChimp
MailChimp is one of the most popular email marketing software in this bunch.  It is popular because it is probably the best email marketing solution for newbies as far as free plans are concerned. They allow you to send 2000 emails per month to a total of 500 subscribers. It is the perfect solution for users who have just begun their email marketing campaign as it takes ages to grow a following.
The Good
MailChimp gives Constant Contacts a run for its money in terms of the affordability of features. It is affordable and comes with a whole list of features that no other application gives at similar prices.
Slick interface
Mobile friendly interface for people who want to manage their campaigns on the go
Integration with Google Analytics to keep tabs on customers' response towards campaigns
Easy option to unsubscribe so that users don't have to worry constantly about getting spammed
The best free plan available
Excellent scalability solutions
Customer segmentation
Mobile compatible email templates
Customer design options
A/B testing
Auto responders
RSS to Email
 The Bad
MailChimp lacks advanced features. It is perfect for marketers who are interested in sending out general newsletters, but for advanced marketing features it will be better if you shopped around. Their humorous interface has received some mixed response. But it can be easily turned off for users who run businesses with a no joking policy.
The Ugly
A huge drawback for users using the free plan of MailChimp is that autoresponders are only applicable under the paid plans category. Be that as it may, all good things come at a price and once your fan base grows you will need a paid solution for all your email marketing needs.
AWeber
AWeber may not have the most beautiful templates in its directory, but what it doesn't have in terms of its appearance it makes up for in its functionality. As autoresponder software, it is one of the best in its field. Here is a broad list of some of its outstanding features that will help you decide whether this application is the right email optimization solution for you.
The Good
AWeber is not as flashy as MailChimp, but it has some stunning features that have made it a favorite among bloggers. Exact information about how each user has responded to your email. How many have clicked on the link that has been provided by you. How many have converted. Such information gives you the means to tailor your emails so that they are better targeted towards conversion.
Set up autoresponders for selected customers
Easier to manage follow up emails
Efficient customer support
Allows you to send emails to multiple client lists at the same time
The Bad
Unlike another software in the race, AWeber does not come with a free trial. In order to try them out, users have to enter their credit details and try out their $1 plan. On top of this, they upgrade you to their plan without informing you about it if you fail to discontinue their trial before its due date.
The Ugly
Unlike MailChimp, AWeber has less integration. Uploading from other contact management services like Salesforce and Zoho is an option that is readily available in MailChimp, but is sorely lacking in AWeber and can easily make contact management a nightmare.
GetResponse
GetResponse is very popular email marketing software that has been in this field for years. Their years of experience have built their credibility and made them a sought for marketing solution. However, as far as pricing is concerned they are a bit on the steeper side of the scale.
The Good
As far as the most striking features of this application go, the list is endless. One of the most striking features of this application is that they offer you the means to create a landing page with their intuitive editor. An editor; that allows you to create smart and attractive landing pages that will result in more conversions.
User-friendly interface with very little learning curve
Responsive designs
A/B split testing
All features are available for all of their plans
Over 150 templates for form builder
Detailed analytics about the performance of email campaigns
Google Analytics integration
The Bad
Their customer service has been often reviewed, and the response is not definite. While some users swear by it, others find it horrible. As such, commenting on it and giving it a grade might be counterproductive.
The Ugly
GetResponse has received a lot of complaints as far as their payment plans are concerned. They are not as transparent as they make themselves out to be. A lot of their payment clauses are hidden in their terms and conditions document; a trick that treads the moral grey area.
Emma Mail
Emma Mail is not your average everyday mail marketing software. It is very different. It is software that is built on the principles of customization. With Emma Mail, you get the opportunity to voice your brand. How does this happen? The answer is pretty simple. When signing up for Emma, you have to give a $250 that will cover a custom designed email template specifically designed for all your branding and customized requirements.
The Good
Emma mail is the ideal solution for companies who are on the lookout for highly professional email templates backed by an easy to understand organization system. With Emma Mail you get:
Highly stylized email templates personalized according to your brand profile
Easy customer segmentation options
Real-time analytics
They also have a 60-day free trial
Unlimited image hosting
Integrated spam checker
An excellent code friendly solution for amateurs who don't want to delve in any form of HTML coding
The Bad
Their pricing structure is a different from other email marketing software. Their cost is based on the number of emails per month and not the number of users. This becomes a problem for people who are on the lookout for a scalable solution.
The Ugly
Emma mail is a bit too expensive for small business owners. With the kind of pricing, they charge top notch services. The fact that they lack an A/B testing feature makes them less than favorable in the eyes of many users. With only100 templates, one might even argue that Emma email marketing services certainly lack in terms of variety.
ExactTarget
ExactTarget is a completely different fish in this category. It is not simply email marketing software but a holistic marketing solution. From email marketing campaign, to mobile ads and internet marketing this application is designed to handle just about everything. The Good As a comprehensive solution ExactTarget becomes the go to software for people who want to work towards a clean, connected and well thought out marketing strategy. ExactTarget is ideal for big companies that want a convenient location to keep track of the performance of all their different advertisement campaigns.
The Bad
ExactTarget may be a holistic solution, but it is not a solution for small to medium businesses. ExactTarget is software that was designed keeping professionalism in mind. As such, it has an exceptionally steep learning curve. As a result, it is not a solution made for everyone. It requires time and an instinctive understanding of the principles of marketing.
The Ugly
Another reason that ExactTarget is not a solution apt for small businesses is the fact that they do not have a transparent pricing structure. They require you to apply for a quote which, and it has been seen that their very basic packages start at a steep price if $1500 per year. It is not the solution designed for companies who are specifically interested in email marketing software.
iContact
iContact is pretty decent email marketing software. It is neither too good nor too bad. For users who are not restricted by budget and need exceptionally easy and basic email marketing software, iContact may be just the thing that will appeal to them.
The Good
The best feature about this software is the fact that it offers over 700 templates to all its users. These templates are extremely diverse, highly professional and sophisticated in appearance and roughly cover about every kind of online business present. If you are interested in getting right down to business, the iContact is just the thing for you. iContact comes with the promise of excellent customer support.
The Bad
For users who are interested in using their design for their email marketing needs, iContact offers a very lousy editor. iContactis known for its sophisticated templates, and if you don't use it for those purposes then you might as well look at other better options out there. iContact is a nerve wrecker for users who want to cancel their services. They offer no automated option to cancel their services. You are required to call them up and then argue with their customer care while they go about convincing you otherwise.
The Ugly
The fact that they offer all their options for their premium plans is a huge letdown. As such, using their services for their basic plan would not be in your best interests.
Mad Mimi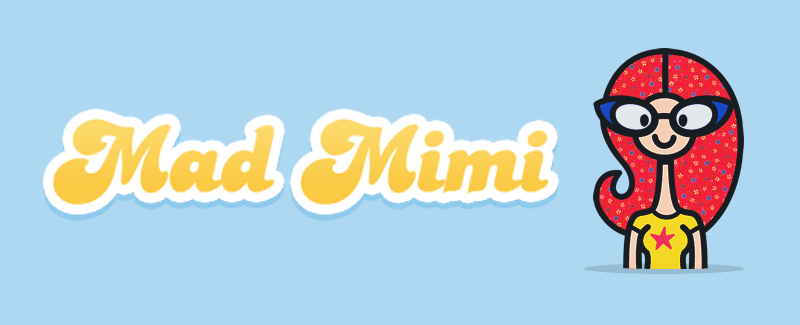 In terms of affordability, Mad Mimi is pretty awesome email marketing software. Its fermium plan puts MailChimp to shame allowing you to send 12,500 emails per month to 2500 customers. This level of generosity will catch up to MailChimp in due course of time. However, such competitive prices also come with their drawbacks as well as conditions.
The Good
Mad Mimi is an ideal solution for small businesses who want nothing to do with coding. It is fairly simple to set up and will have you up and running in no time. If you are interested in ad campaigns that can be easily integrated via Facebook and other social platforms then, Mad Mimi is just the thing for you.
The Bad
Considering its highly affordable price range, Mad Mimi does require you to make certain compromises. It does not come integrated with the split A/B testing feature. So if all that you are interested in id getting the word out there then Mad Mimi might be the right choice for you. But if you want to present a cultivated persona via your emails then it will be best to keep your options open.
The Ugly
Mad Mimi's autoresponder feature is a bit too simplistic even to the liking of amateur users. There are virtually no options in terms of setting up autoresponders apart from the sign up feature. The lack of this feature makes Mad Mimi not the ideal option for Ecommerce websites.
Mailigen
As far as affordable and easy to use solutions go, Mailigen is a pretty awesome option. It is the perfect option for amateur entrepreneurs who haven't specially hired a marketer to handle their marketing campaigns. It is extremely easy to use and does not take much time at all. In terms of affordability its start-up plan begins with just$10. You will be hard pressed to find a cheaper alternative anywhere else among its competition.
The Good
Its simplicity makes it a favorite among many users. You can easily segment your customer list as well as export and import them without much hassle. You even have the option to send personalized messages to your customers and build stable relationships with them. Mailigen gives you the freedom to create unlimited campaigns and fairly competitive prices at all levels.
The Bad
As fairly simplistic email marketing software Mailigen is not an ideal solution for users who are interested in going for a sophisticated email marketing strategy. It is better suited for small companies who have just begun to market their services.
The Ugly
Mailigen does not offer your template preview for different formats. As such, it will be your responsibility to check email previews on different devices to ensure that your mail is made without any device specific errors
10. Benchmark Email
Benchmark Email is another affordable and easy to use solution. One of its biggest advantages is the fact that it has a very flexible pricing plan so that you have the freedom to select a plan that is tailor-made for you needs. As such, you will end up paying exactly the amount that you should pay for you plan.
The Good
Benchmark email has a well-formed pricing structure that can be confusing at times, but usually extremely handy for users. Their free for life plan allows you to send out 10,000 emails per month, which can be a goldmine for newbie marketers. The only hitch to this solution is the fact that you will have to build your customer base from scratch as they don't allow you to upload your current email list. They have an open door policy in terms of accepting criticism. You can post certain modifications for their software and based on its urgency they will ensure that they work towards making their application better. Very few services have such open door policies.
The Bad
Benchmark Email does not have its own analytical and conversion centric features. In terms of email optimization, you have to rely on online surveys and Google Analytics. Benchmark Email is also devoid of A/B split testing which might cause concern among some users.
The Ugly
In a world that is fast becoming smartphone friendly, Benchmark Email is still way behind; their current program only offers mobile compatibility for iphone. As such there will be a huge gaping hole in your email marketing strategy in terms of the Android Market. The sooner they provide this facility in their service the better it will be for them.